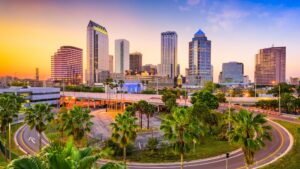 Things to do in Tampa
Tampa
Situated along the sparkling Gulf Coast of Florida, Tampa is a bustling city known for its vibrant culture, stunning waterfront, and a plethora of attractions. From its charming historic neighborhoods to its world-class museums and thrilling outdoor adventures, Tampa offers something for every type of visitor. Whether you're a nature enthusiast, history buff, art lover, or thrill-seeker, this dynamic city has an array of activities to keep you entertained. In this article, we will explore 7 fantastic things to do in Tampa that will ensure an unforgettable experience.
Read More : Cheap Flights to Tampa
Explore the Historic Ybor City:
A visit to Tampa is incomplete without exploring the historic district of Ybor City. Known as the "Cigar Capital of the World," this neighborhood boasts a rich heritage and vibrant atmosphere. Wander along the brick-lined streets, marvel at the colorful buildings, and soak in the Latin influences. Don't forget to indulge in authentic Cuban cuisine and visit the famous Columbia Restaurant, Florida's oldest restaurant.
Immerse Yourself in Art and Culture at the Tampa Museum of Art:
Art enthusiasts should head to the Tampa Museum of Art, which showcases an impressive collection of modern and contemporary art. From classical to cutting-edge exhibits, the museum offers a diverse range of works. Additionally, the striking architecture and the scenic views of the Hillsborough River make this museum a must-visit for both art lovers and architecture enthusiasts.
Enjoy a Thrilling Adventure at Busch Gardens:
Located in Tampa Bay, Busch Gardens is a world-renowned theme park that combines thrilling rides, live entertainment, and exotic wildlife. Experience adrenaline-pumping roller coasters, encounter majestic animals, and attend captivating shows. With a unique blend of amusement park thrills and a safari-like atmosphere, Busch Gardens offers a memorable experience for visitors of all ages.
Discover Marine Wonders at The Florida Aquarium:
Delve into the fascinating underwater world at The Florida Aquarium. Home to a vast array of marine species, this attraction offers interactive exhibits, touch tanks, and even the chance to dive with sharks. Explore the diverse ecosystems of Florida, from coral reefs to wetlands, and learn about conservation efforts. A visit to this family-friendly attraction promises an immersive and educational experience.
Relax and Unwind at the Tampa Riverwalk:
Stretching for 2.6 miles along the Hillsborough River, the Tampa Riverwalk is a picturesque waterfront promenade that offers a delightful urban escape. Stroll or bike along the path, enjoy the stunning views, and make use of the various parks, restaurants, and shops along the way. The Riverwalk also provides access to other popular attractions like the Tampa Bay History Center and the Amalie Arena.
Delve into History at the Henry B. Plant Museum:
Step back in time and explore the opulent Gilded Age at the Henry B. Plant Museum. Housed in the historic Tampa Bay Hotel, this museum offers a glimpse into the luxurious lifestyle of the early 20th century. Admire the grand architecture, exquisite furnishings, and artifacts that depict the hotel's role in Tampa's history.
Get Closer to Wildlife at ZooTampa at Lowry Park:
Animal lovers should not miss a visit to ZooTampa at Lowry Park. Home to over 1,300 animals, this zoo offers an immersive experience with a focus on conservation and education. From elephants and giraffes to koalas and penguins, you'll encounter a wide range of captivating creatures. The zoo also features interactive exhibits, behind-the-scenes tours, and wildlife shows, making it an ideal destination for families.
Read More : Flight Ticket to Tampa