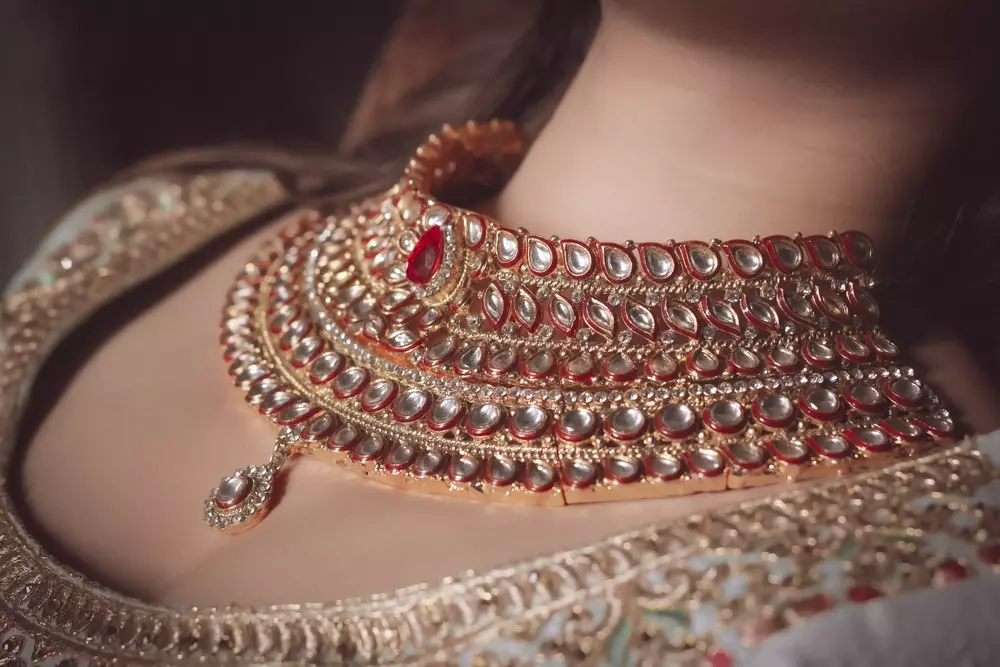 Exploring Kundan artificial jewellery popularity in 2023
Kundan is a type of artificial jewellery that is designed to imitate the look of traditional Kundan jewellery.
Why is Gemstone Commonly used in kundan artificial jewellery sets?
Although traditional and contemporary Kundan artificial jewellery manufacturers frequently experiment with different stones, pearls, diamonds, emeralds, sapphire, topaz, rubies, agate, garnet, crystal, amethyst, and jade are the most frequently encountered gemstones in kundan wedding jewellery designs.
Glass and gemstones are used in the creation of a kundan set for the wedding, whereas. When playing polka, raw, unprocessed diamonds are used. Uncut diamonds in Polki are extremely valuable and sought-after for their rough appearance. They are frequently given as priceless relics by wealthy and aristocratic families. Jewellery made of Kundan is known to be more affordable and less prestigious than Polki.
Jadau is nothing more than the process used to create Kundan and Polki artificial jewellery.
How has Kundan artificial jewellery evolved over time?
The desire for a kundan dulhan jewellery set never goes away, although it increases during the wedding season. Indian bridal outfits are not considered complete without an opulent bridal kundan jewellery set. In addition to weddings, Kundan artificial jewellery is worn at every celebration, social event, or religious ceremony.Thousands of ladies buy Kundan jewellery to match their Indian apparel; some even accessorise by donning it with contemporary Western outfits.
Genuine Kundan jewelry stands out by its exquisite finishing and centuries-old manufacturing methods, which also makes it a superb option. Bollywood fashion serves as an important source of inspiration for many Indian ladies. When leading ladies in films like "Jodha Akbar" and "Ram Leela" were shown wearing an enthralling kundan set for wedding that lit up the screen, the popularity of this type of jewelry skyrocketed.
When well-known Bollywood actresses like Aishwarya Rai, Shilpa Shetty, and Kareena Kapoor wear expensive Kundan jewelry on their wedding days, the excitement becomes even more.
How is Kundan artificial jewellery crafted or designed?
Making Kundan ethnic jewellery set masterpieces takes a lot of labor. The procedure is also very complicated. Since finely developed expertise is required at every level, most processes have a professionally specialized craftsman.
The process begins with the fabrication of the "Ghaat," or skeletal framework, and is followed by the "Paadh," or pouring of lac or natural resin into the base and shaping it following the Kundan set patterns.
In the next phase, referred to as "Khudai," the framework is covered with glass and uncut, formed, polished (multi- or single-colored) gems. For a clean, polished appearance, more Kundan or melted gold is added to the edges. The addition of Meenakari at the moment enables the details to be adjusted.The artificial gold foils are added as the final step in the "Pakai" procedure to secure the piece. In the final stage, referred to as the "Chillai," the jewels are meticulously polished.
Read More:- How to maintain artificial jewellery set shop from Swarajshop?
The stunning Meenakari carvings that have been applied make the artwork changeable.
Is Kundan artificial jewellery durable?
Kundan imitation jewellery set is durable to some extent but is not as durable as real Kundan jewelry. This type of jewellery is made using imitation stones, which are not as strong as real Kundan stones. With proper care and maintenance, Kundan artificial jewellery can last for a long time. However, it is not recommended to wear this type of jewelry regularly as it can get damaged easily.
Is Kundan artificial jewellery suitable for regular use?
A Kundan ethnic necklace set is not recommended for regular use as it is not as durable as real Kundan jewellery. This type of jewelry is best worn for special occasions and events where you want to make a statement. If you do wish to wear this type of jewelry regularly, it is important to take good care of it and avoid exposing it to water, humidity, and direct sunlight. By doing so, you can extend the life of the jewelry and keep it looking beautiful for years to come. To know more about the Kundan jewelry collection shop from Swarajshop.