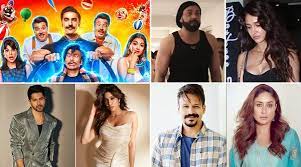 Are you a die-hard fan of all things Bollywood? Do you love keeping up with the latest gossip and breaking news from the world of Indian cinema? Well, you've come to the right place! Our page is your one-stop destination for all the latest updates, gossip, and exclusive stories from the heart of Bollywood.
Lights, camera, action! Bollywood, the Indian film industry, is a world of glitz and glamor, where stars are born every day, and the paparazzi never sleep. From the latest movie releases to the hottest celebrity gossip, here's a roundup of all the buzzworthy news from tinsel town. Let's dive straight into the latest news from the world of Bollywood.
Our Pathaan is back with a bang. The Badshah of Bollywood, Shahrukh Khan, has just announced the release date of his upcoming film, Jawaan.
Releasing the teaser and the latest poster on social media platforms the official date was announced. However, the movie was supposed to release on June 2023 but was later postponed. Now, the movie is set to hit theaters worldwide on 7th September 2023, and fans can't be more excited.
After Jawan, SRK will be next seen on Rajkumar Hirani's Dunki and Tiger vs Pathaan, a part of YashRaj Spy Universe. The Khan duo will surely smash all the records at the box office. Mr. Khan has also recently featured with his son Aryan Khan unveiling his brand new clothing line.
After the Blockbuster Pathaan, fans have high hope for Atlee's Jawan. In a recent interview, Shahrukh said, "Jawaan is a film very close to my heart, and I can't wait for you all to see it. It's a story of love, family, and sacrifice, and I hope it touches your hearts."
Bollywood Latest: Alia Bhatt Shines at the Met Gala 2023
The Met Gala 2023, which is always a major event in the fashion world, just took place, and it did not disappoint! This year's theme was "Karl Lagerfeld: A Line of Beauty," paying homage to the late designer's legacy. Amongst the stunning guests were Bollywood beauties Alia Bhatt and Priyanka Chopra, who turned heads with their show-stopping looks.
Our Gangubai's debut at Met Gala was surely a hit. She looked absolutely stunning in a Prabal Gurung white ball gown, made with 100,000 pearls! Wow, that's truly something!
Her dress was a tribute to the legendary designer, Karl Lagerfeld, who was known for his multi-hyphenate approach to brand building and celebrity power. Lagerfeld's iconic contributions to the fashion world were truly celebrated at the event, with references to his work at Chanel, Chloé, and Fendi.
And it seems like black and white dominated the event, with guests donning tweed, jacquard knitted dresses, gold buttons, safety pins, and, of course, pearls galore. It was a sight to see! The white Camellias, which are symbolic of Chanel, was also seen by the dozen on the red carpet. And it's safe to say that Alia Bhatt definitely got the memo!
All in all, the Met Gala 2023 was an amazing event that brought together the biggest names in the fashion world. We can't wait to see what they have in store for us next year!
Bollywood Gossip: Sanya Malhotra Buys New Home at Gurgaon
The amazing Sanya Malhotra, who we all love from "Dangal," has just bought herself a new house in Gurgaon! The talented actress has been killing it on the big screen, and now she's adding a new property to her real estate portfolio. Her new 4BHK pad is sure to be a sight to see, and we can't wait to see how she's going to style it up! Fingers crossed, she'll give us a tour on social media, right?
What's even sweeter is that Sanya plans on using her new place to spend some quality time with her family, whenever she gets the chance. It's always nice to stay close to your loved ones, no matter how busy you get. We're sure that her new home will be full of love and laughter, just like her amazing personality.
Oh, and let's not forget about her upcoming movie, Kathal! Sanya will be playing a cop who's investigating the theft of two jackfruits from an MLA's garden. Vijay Raaz and Rajpal Yadav are also starring in the film, so it's bound to be a super entertaining watch.
We're so happy for Sanya and can't wait to see all the amazing things she'll accomplish in her new home and upcoming projects. Keep slaying, girl!
Bollywood Gossip: Parineeti Chopra and Raghav Chadda Spotted Watching Ipl Together
The Indian Premier League has always been a favorite among Bollywood celebrities, and it seems like Parineeti Chopra and Raghav Chadda are no exception!
On Wednesday, Actor Parineeti Chopra and AAP leader Raghav Chadha were spotted watching an IPL match together in Mohali. The two rumored love birds were seen laughing and waving at their fans in the stadium. This happens to be their first public spotting after reports of their impending engagement surfaced online.
The two were spotted watching the Punjab kings take on the Mumbai Indians together, sparking rumors of a budding romance. While there has been no official confirmation, fans can't help but speculate about the possibility of a new Bollywood couple.
Bollywood Breaking News Today: Salman Khan Not Coming on Eid 2024
Every year, fans eagerly await Salman Khan's Eid release, but it seems like 2024 will be an exception. There's no such announcement from the superstar. The rumors sparked after Khiladi Kumar Akki announced the official release date of his latest – Bade Miyan Chote Miyan also featuring Tiger Shroff to be released on Eid 2024.
We all know our bhaijaan, well maybe not everyone's bhai, when it comes to friends he can even leave his fixed schedule too. The last time he did so was for another Akshay kumar film Suryavanshi, directed by Rohit Shetty.
While fans will certainly miss their Eid treat from Salman, there's something that can brighten their mood!
Well, on a recent episode of the Rajat Sharma Show, the sultan of Bollywood confirmed that he will be working with Karan Johar's Dharma Productions for his next project. The details about the movie are still under wraps, but we're excited to see what this collaboration will bring to the table. Khan has worked with many production houses in the past, but this is the first time he'll be teaming up with Karan Johar's Dharma. We can't wait to see what they'll come up with.
So, there you have it! The latest Bollywood gossip, all in one place. And the best part? We update our page regularly with fresh news, so you'll always be in the know. Don't forget to follow our page for more entertainment news, Bollywood style! Get Your Bollywood Fix with the Latest Gossip and Breaking News